Why should you grade your Trading Cards ?
Trading Card Grading has existed for more than 30 years.
Graded cards have proven to be a must in every collection.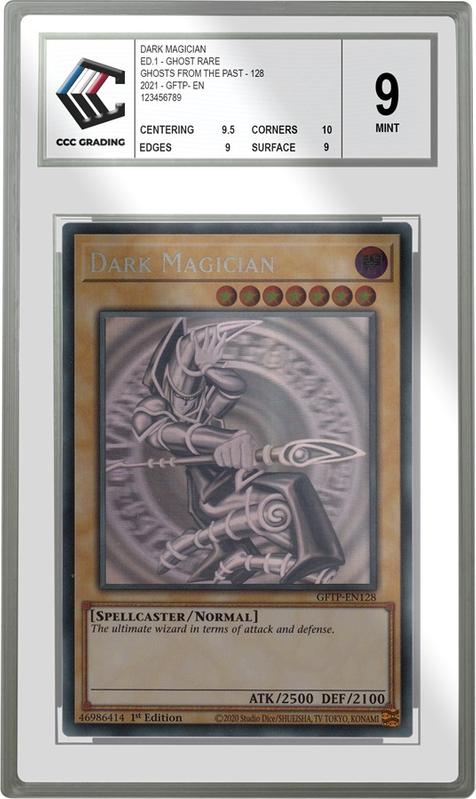 Benefits
Protect your cards to maintain their condition

Get a fair and impartial expert grading

Offer transparency and a guarantee of quality on your next transactions

Embellish your collection and increase its value
How to choose a Card Grading company ?
Today, card grading is essential for building your collection.
CCC is a premium certification service: unrivalled expertise and top-of-the-range products.
Here are the criteria to consider when selecting your card grading company.
The slab
It is important to distinguish a custom-manufactured slab from an online-purchased slab on a reselling website.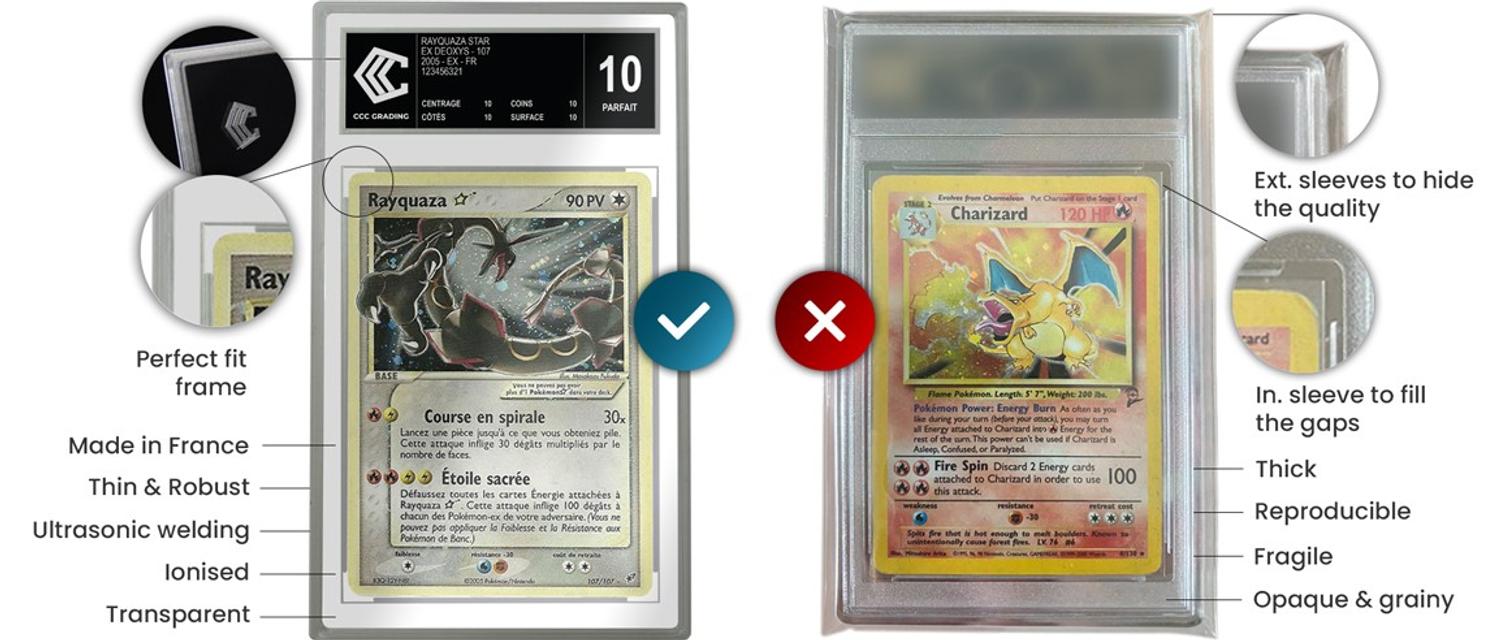 Comparison: CCC slab (left) and a classic slab (right)
The CCC Grading advantage
Thin & Strong
Our slabs are exceptionally slim, enhancing the beauty of the card while remaining robust and durable.
Transparent
We have chosen the most transparent material to highlight all the details of the card.
French manufacturing
Developed in collaboration with our French partner, expert in plastic manufacturing since 1960.
Perfect-fit frame for each card
The inner frame of the holder is available in several versions to fit the dimensions of each card (even Yu-Gi-Oh).
Security
Unique. Ultrasonically welded all around. Waterproof. CCC logo strategically placed.
Quality & Investment
We worked on Research & Development for more than a year to make our slabs perfect. An investment that proves our long-term ambition.
The reputation
A grading company stands out first and foremost by its reputation and the quality level it is able to maintain. Quality should be reflected in the grades, customer service, error handling, backlog management and in the processes.
It is recommended that you consult reviews of the company before sending your cards for certification.
The CCC Grading advantage
Customer satisfaction
Your satisfaction is our priority. Our processes are designed to be as transparent as possible.
Protecting collectors and their interests
The value of your graded cards is tied to our reputation. We do everything that is possible to maintain our satisfaction rate.
Work ethic
Our experts handle your cards with unmatched care. We love a job well done.
Motivated teams
Our teams are dynamic and professional. A healthy work environment so that collectors get the best out of us.
The grading system
Nowadays, a detailed grading with 4 sub-grades has become a standard of certification.
Indeed, grading a card is not something that can be improvised and collectors should always understand their grade instantly.
We created an innovative justification system: the GradeReport®.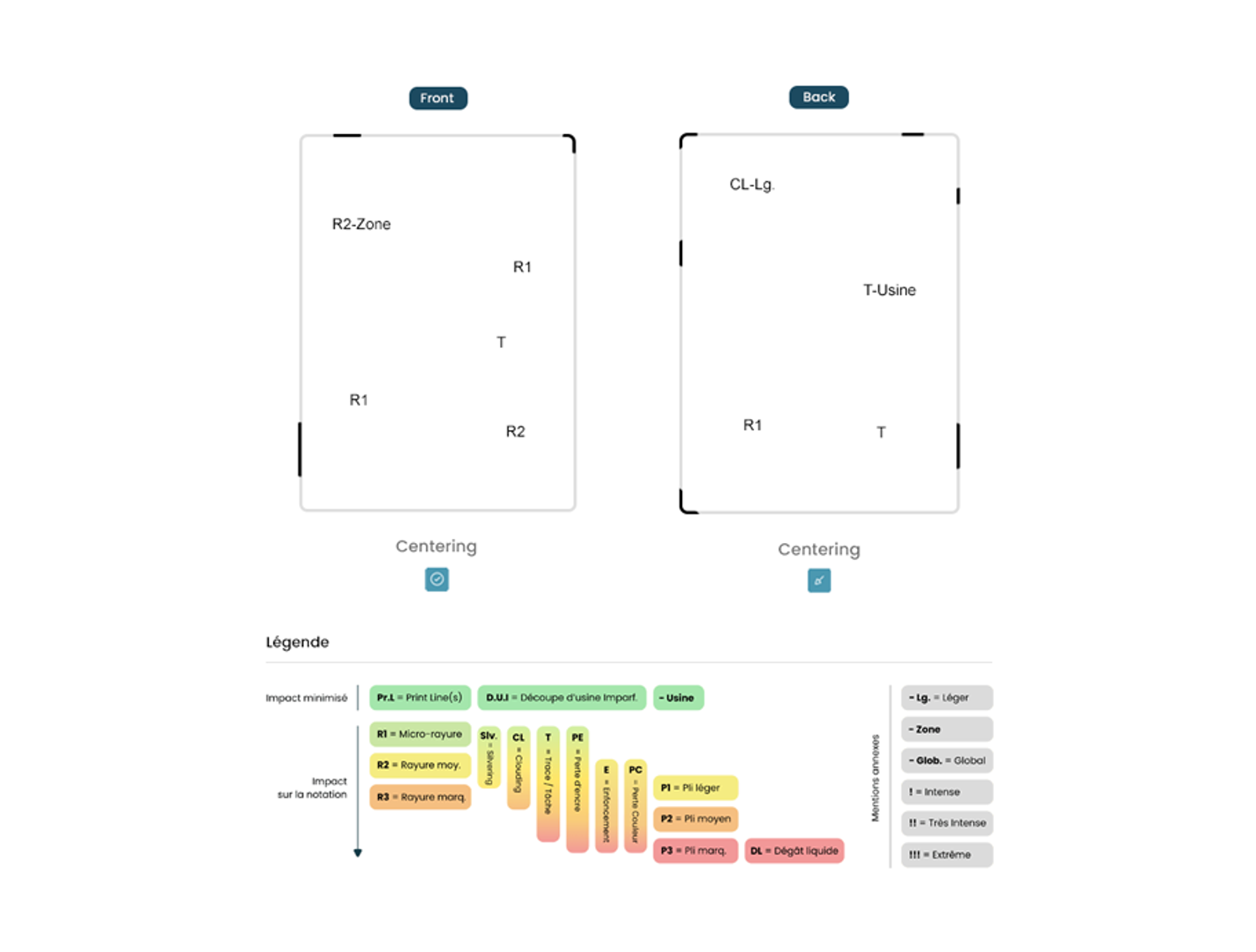 The CCC Grading advantage
4 Sub-grades details on every card
Our service will always include a grading based on the 4 criteria: Centering, Corners, Edges, Surface.
A complete report : the GradeReport®
This stamped receipt indicates the location of the card's defects. We are the only organization offering this level of detail and transparency.
Gold and Black Labels
Reserved for cards in perfect condition, these matte & luxurious labels make those cards stand out.
Detailed analysis with custom tools
More than 20 custom-developed centering tools allowing analysis without any contact with the card.
The label & security
The label is the guarantee of quality from a grading company. The label must be unique, clean and professional. The entire details of the card must be present, including the specificities. The presence of security features is also essential (hologram, UV ink, QR Code etc.).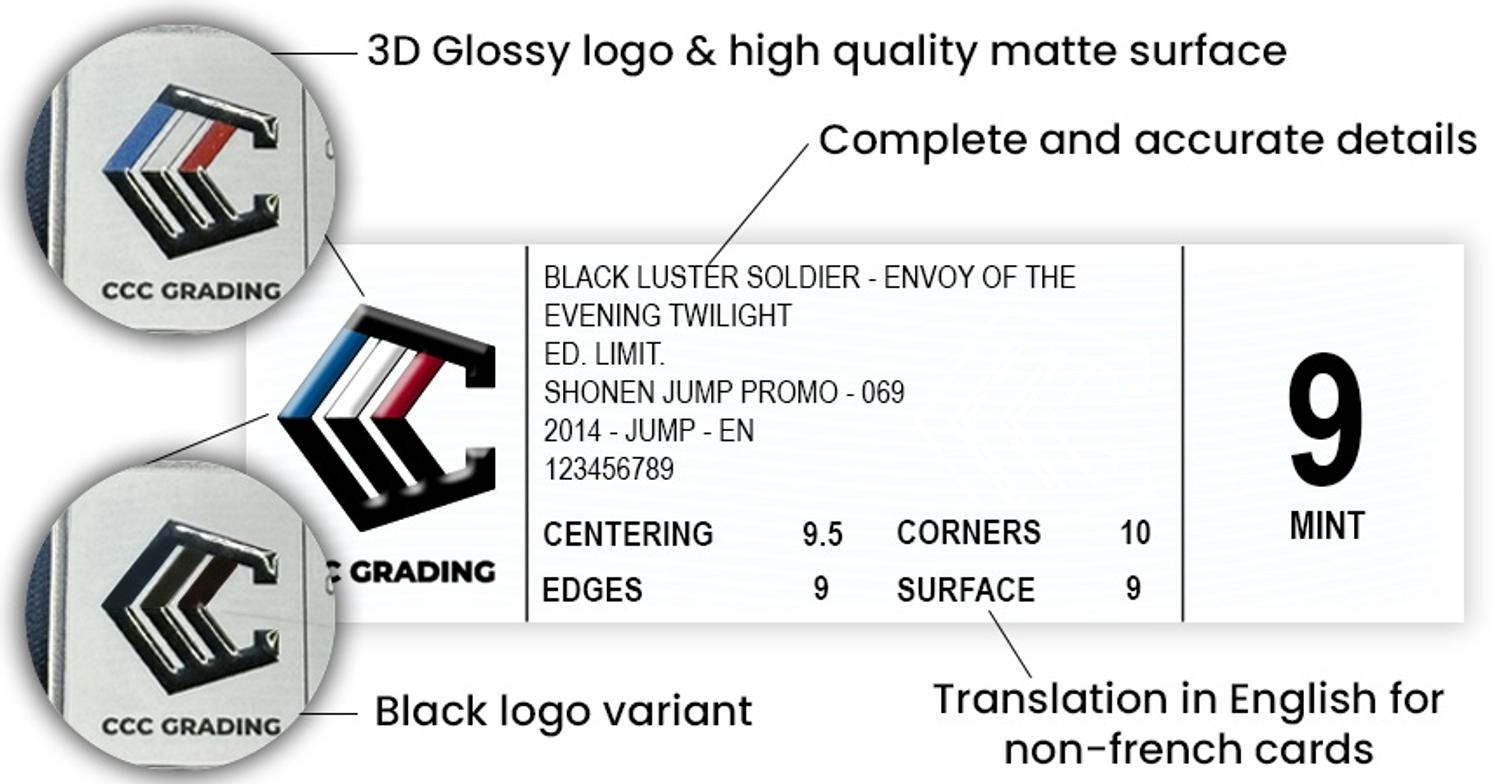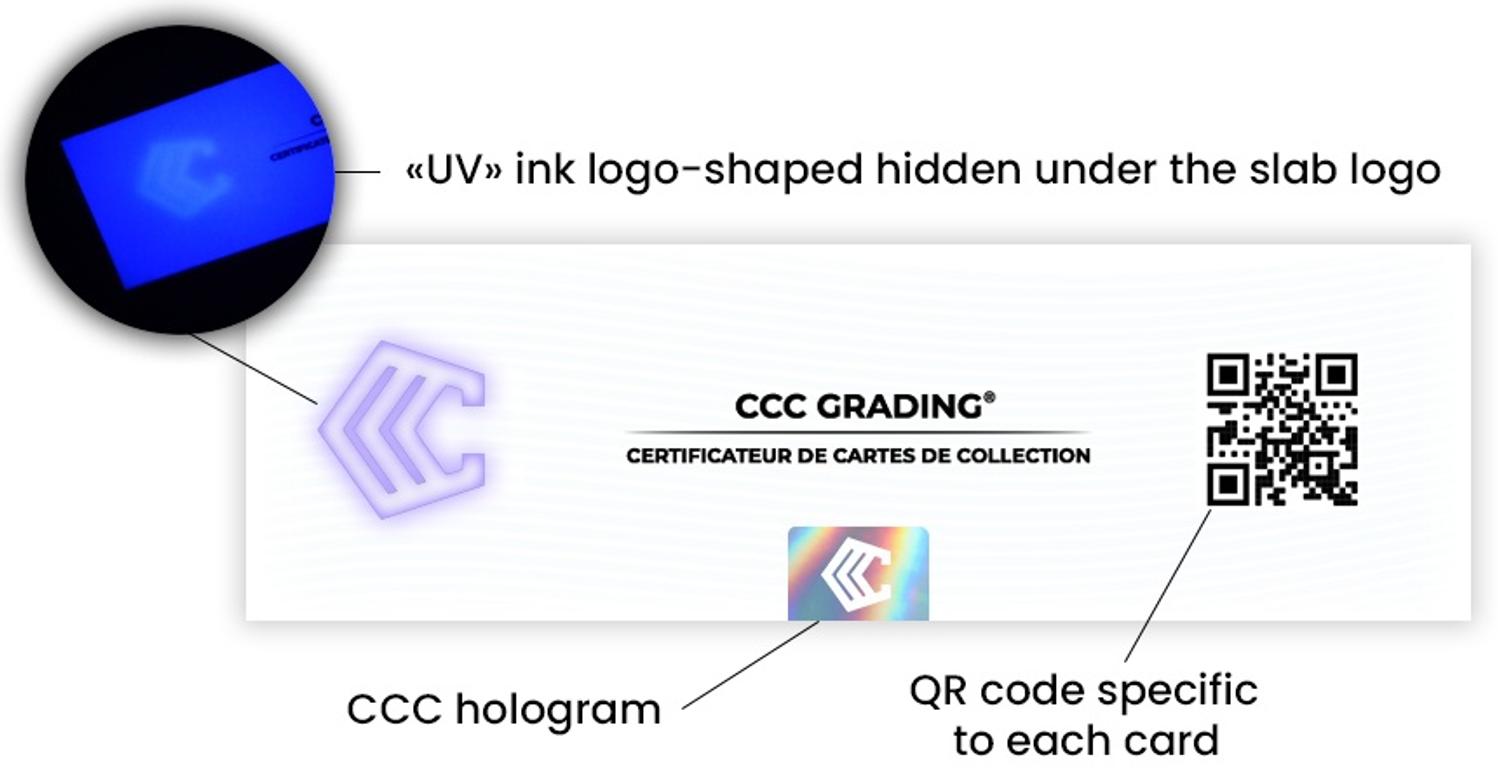 The CCC Grading advantage
High-quality matte coating
Our labels have a luxurious finish and a matte coating that also gives them a distinctive thickness, a sign of quality.
UV Ink and hologram
The label has some discreet glossy details, a distinctive holographic coating, and UV ink in the shape of our logo.
Unique QR code
Located on the back of the label, it allows you to verify the data, the population of the card. It also secures the transactions linked to this card.
Precise details of the cards
The label contains up to 11 fields with all card information is printed via our automated system and database.
The order management system
The grading process is complex and divided into several key steps that must leave no room for error. From receipt to dispatch, order management must be supported by an efficient IT system.
An order system that can be adapted to the backlog is necessary to ensure that deadlines are met and that quality is maintained.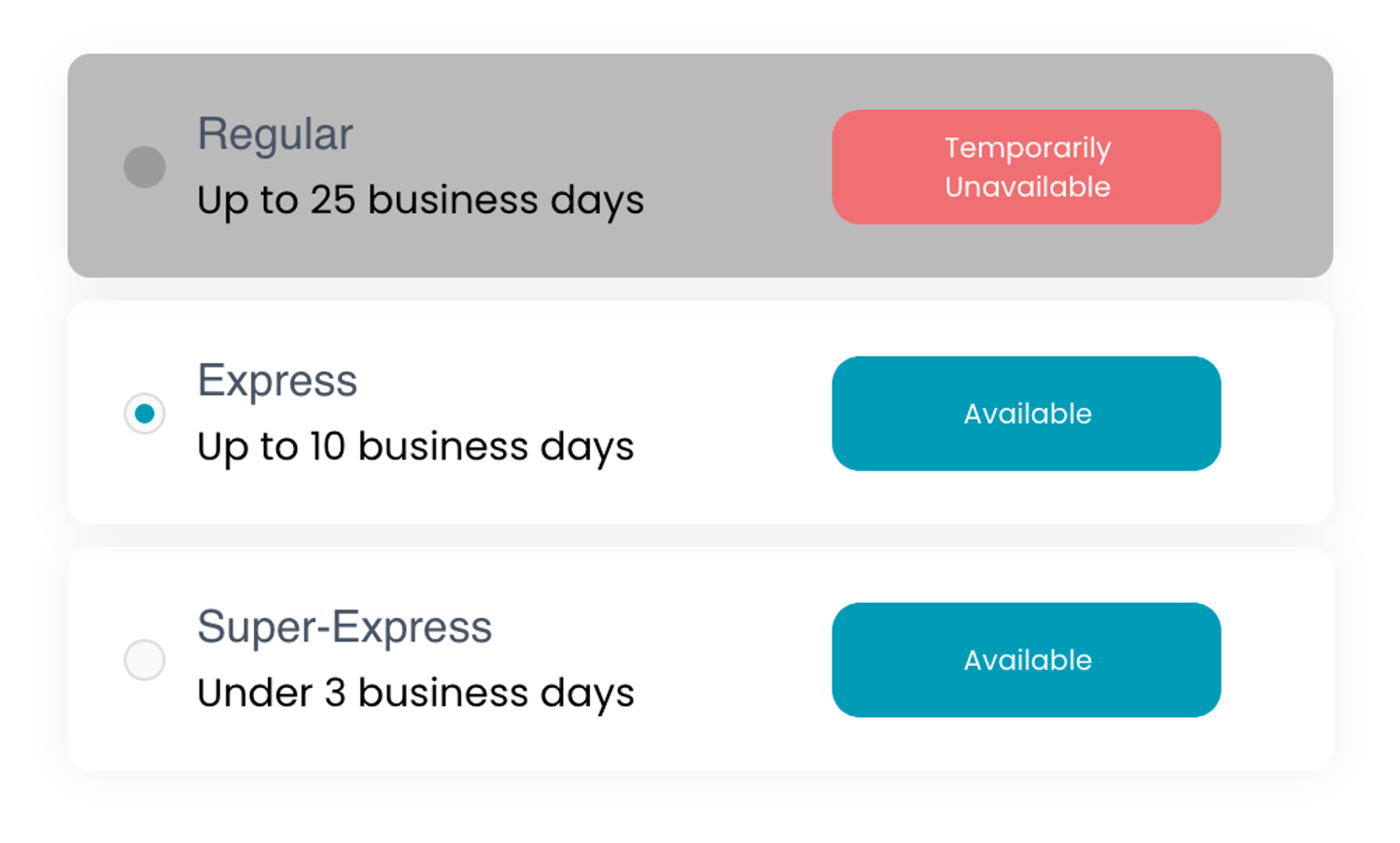 Example of a temporary closure to avoid saturation of the economic mode.
The CCC Grading advantage
Adaptive order system
Some modes will be temporarily closed when the number of orders exceeds the capacity of our workshops.
Optimized production line
All stages of our production are linked to our computer system for efficient and error-free processing.
No delay
Thanks to all these measures, our processing times are 100% respected.
The multi-TCG expertise
It is important that the grading company does not focus solely on one TCG (e.g. Pokémon). The ability to authenticate cards must be proven through a multitude of expertise.
Each game represents a know-how (counterfeit and special cards analysis): our authentication experts proved their knowledge after a complete training.
The CCC Grading advantage
14 TCGs
We master many TCG : Pokémon, Yu-Gi-Oh, Magic: The Gathering (MTG), Dragon Ball Super, Vanguard Cardfight, Force of Will, Flesh and Blood, Harry Potter TCG, One Piece Card Game, Dragon Ball Carddass, DB Heroes, Disney Lorcana, Naruto Kayou, Metazoo.
5000 Sets
We are able to appraise special expansions, tournament cards, printing errors, international releases of all types.
11 Languages allowed
We accept up to 9 card languages for some games. All non-French cards will have an English label.
The submission center & data
The quality of the submission center must be perfect. The sets database must be kept up to date and created in-house.
We do not depend on a database extraction of sets. Thus, expansions are available immediately on our submission center without waiting for an intermediary to feed the DB.
The CCC Grading advantage
Databases updated in real time
Our set database and graded cards DB are constantly updated and verified.
Complete and intuitive submission center
Our submission center adapts to each game and offers the widest choice of expansions while limiting errors.
Autenticity check
Card verification system in the CCC database. For transparency when purchasing, selling or viewing card details.
Pop Report
A complete population report shows you the scores obtained for each card reference certified with CCC.
Which cards cannot be graded ?
These categories of cards do not meet our certification criteria or we are unable to authenticate them.
They will be returned without any treatment.
Oversize / Jumbo cards
We only grade standard size cards (8,8x6,3cm) and Japanese size cards (8,6x5,9cm). Oversize or jumbo cards will be refused.
Torn cards
If your card is torn or extremely damaged (e.g. adhesive tape or other extreme treatment), we will not analyze it, it does not fit our certification criteria.
Cards that don't belong to the main TCG
Cards that are not part of the original game.
This includes cards such as: Stickers / Online Game Bonus Cards / MTG Planes / MTG Minigames etc.
Exceptions may apply.
Cards or packages that have been damaged during transit
It is important to protect your shipment so that this does not happen. Please follow the Shipping guide.
Cards allowed but not sealed
These cards are authorized for an authentication attempt but will not be case sealed during our process.
You will receive a GradeReport™ explaining the reason for refusal. The service remains at the same rate.
Counterfeits / Fake cards
You may have questions about the authenticity of a card. You may send us such cards for authentication attempt.
If they are found to be fake, they will not be sealed, but you will receive a GradeReport™ indicating the reason for rejection.
"Re-backed" cards
This fraudulent practice is mainly done on some Yu-Gi-Oh and MTG editions.
In order to detect them, we analyze each card under several types of powerful lights (white, UV) indicating the uniformity of printing, which signals the slightest internal defect of the card.
The card can also be accurately weighed and compared to references.
«Trimmed» cards
Cards with any sign of cutting, even a slight one.
This can be considered a fraudulent practice on certain types of cards (the most famous example is the Beta edition of Magic The Gathering).
«Inked» cards in the form of writings / drawings
Note: Cards with ink in a hidden location or that seems intended to hide a flaw will be encapsulated without grading ("A" Grade), with the mention "Inked" and "Altered (Intentional)".
Cards with ink NOT intended to mask a defect will be graded and encapsulated with the "Inked" mention.
Altered / intentionally modified cards
Card with drawings, customizations or modifications that change the appearence of the original card.