Learn everything about the CCC Slab
At CCC Grading, we do everything possible to offer collectors the quality they deserve.
We have been developing for over a year a customized, technical and innovative protection for your cards.
We set a new standard of quality on card grading slabs.
Discover here a comparison and all the details about our holder.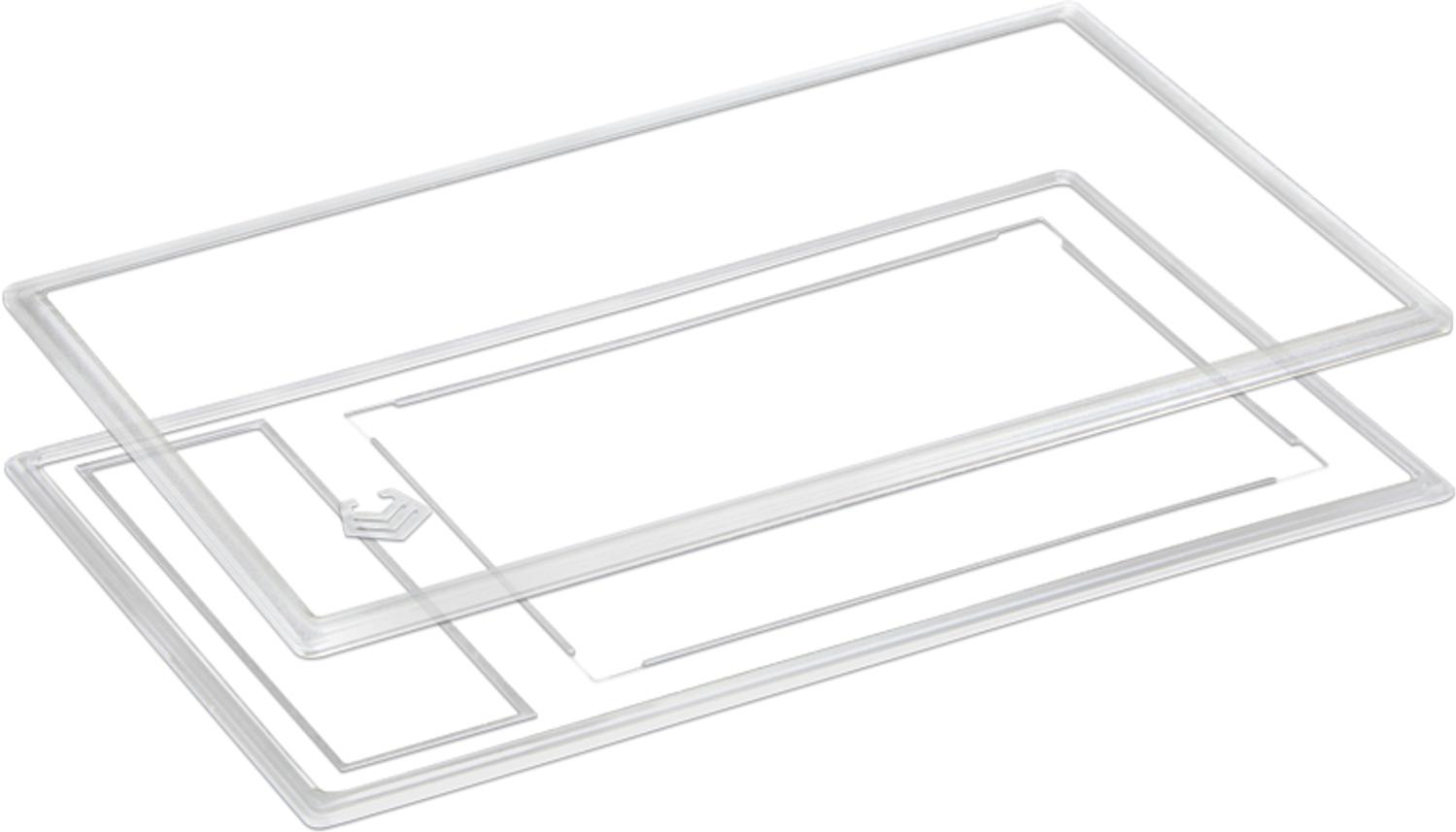 Material
We chose a stronger and better (though more expensive) material: Polymethyl Methacrylate. A strong, highly transparent plastic that meets the needs of ultrasonic welding.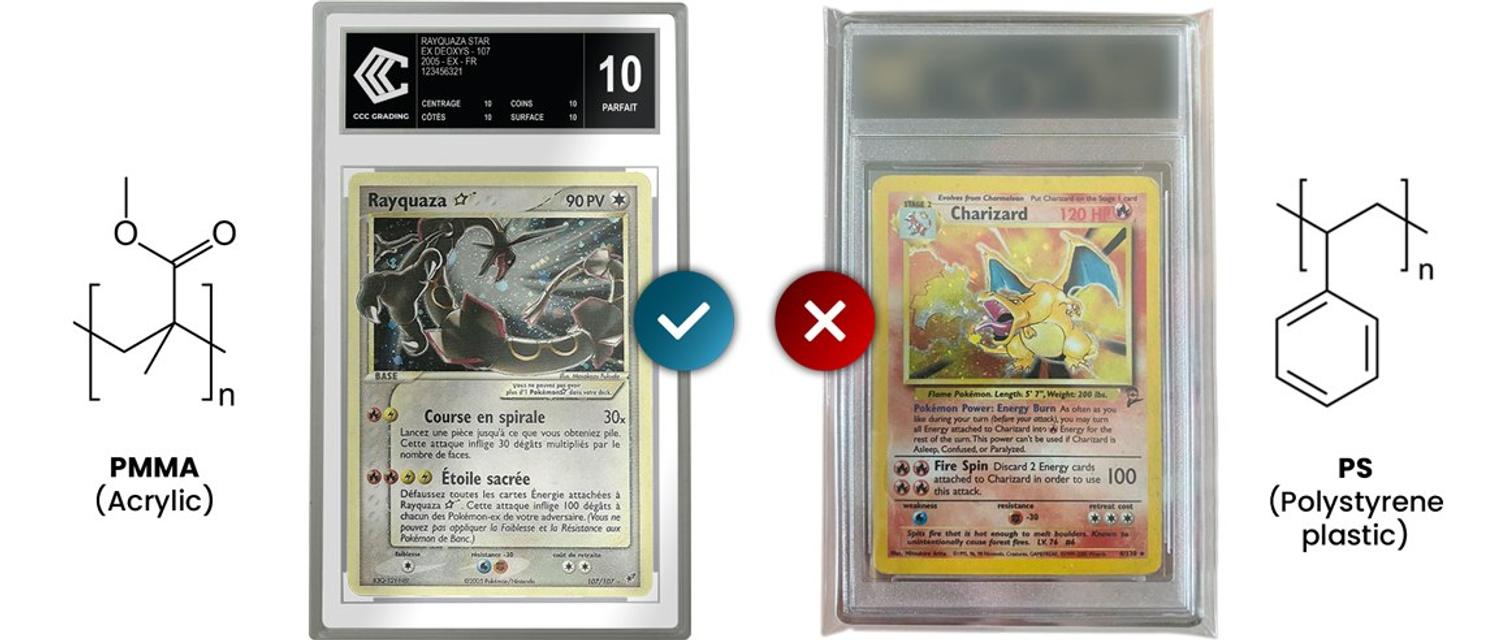 Comparison: CCC slab (left) and a classic slab (right)
Polymethyl Methacrylate CCC Slab

Limited scratches
Although any plastic is potentially scratchable without protection, this material greatly limits scratching over time.
Drop resistance
Due to its size, thickness and uniformity of welding, our case is drop resistant. The material is compact, dense and heavy.
Transparency
We have selected the highest grade of transparency so that the card is perfectly highlighted.
UV resistant
Your card is safe inside a case even if it is exposed to the sun for a long time.
In comparison : PS (Polystyrene Plastic) slab

Fragile
The material used on this type of slab is known to be brittle when dropped, it tends to break into several small parts.
Scratches
PS is a plastic with low scratch resistance, although it is light, it is very fragile and sensitive.
Unwanted glare
It is indicated that PS is a plastic that can give bluish reflections, which can alter the appearance of the card.
Sleeve to hide a flaw
Often, PS holders already come in a sleeve. This can be a way to hide defects and limit scratches or breaks that easily occur on this material.
Provenance
Manufacturing a custom slab in France represents technical complexities that some companies buying directly from online suppliers do not have.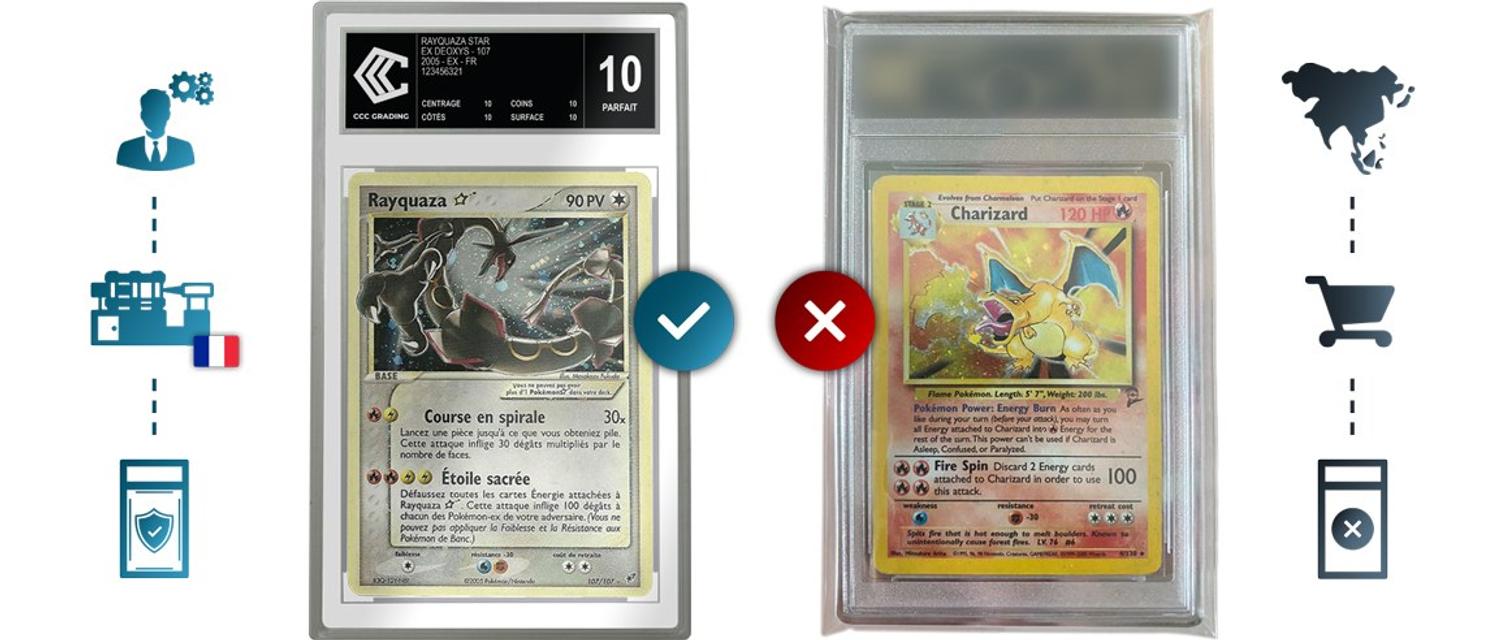 Comparison: CCC slab (left) and a classic slab (right)
CCC Slab manufactured in France

Unique and private
Our plastic injection mold is a protected industrial property with unique features developed only by CCC Grading.
Investment
Our investment in industrial machinery and molds demonstrates our commitment to providing collectors with the highest quality service.
Production agility and flexibility
We do not rely on any reseller or shipping time. We are able to produce our slabs with a "Just-In-Time" manufacturing process.
Custom finishes and Design
The engraved logo on the back of our case provides additional security and a unique design.
In comparison : A slab bought to an online wholesaler

Supply difficulties and risks
Buying cases from outside Europe has considerable disadvantages (delays, defects, dependence) which can affect the reputation of the company and therefore the collector's cards.
Similarities (not secured)
Wholesalers sell similar slabs to many companies, this causes a major security flaw and opens the doors to counterfeiting.
Short-term vision
The commitment shown by not making any investment in a private mold demonstrates a short-term view that will make the market for certain graded cards unstable.
Thickness
A thin slab that combines robustness and high-end finishes represents an industrial challenge that we have achieved. It ensures a unique visual appearance of the card.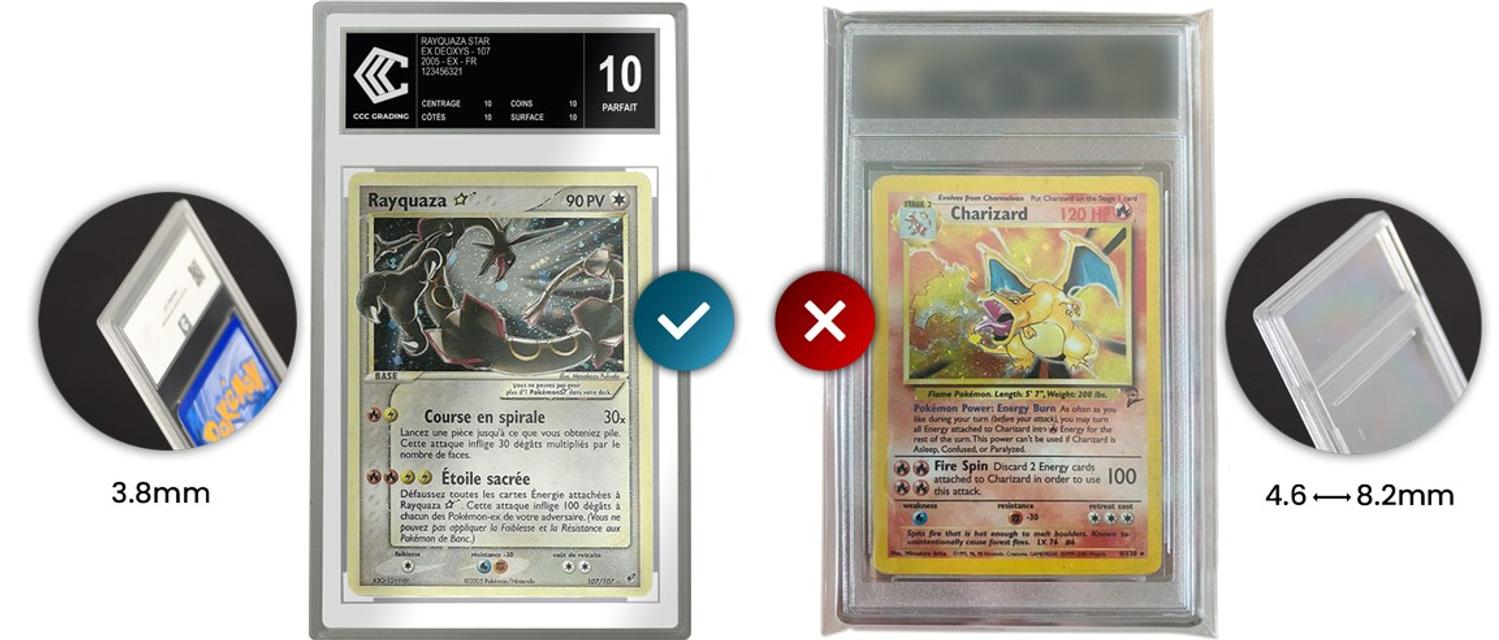 Comparison: CCC slab (left) and a classic slab (right)
CCC Grading thin slab

Aesthetic refinement
The slimness of our case and its perfectly uniform sides give an upscale and sleek visual effect.
Better visual appreciation of the card
The slimness allows a better appreciation of the details, the colors and the brightness of the card.
Maintained robustness
Although the slab is thin, the robustness is maintained thanks to the internal design structure and the chosen material.
In comparison : A thick slab

Poor color and detail rendering
The card is obscured by heavy layers of plastic that alter details and colors.
Devalued card
The aesthetics of your card cannot be fully appreciated with a thick case.
Difficult storage
Thick cases represent a significant storage volume and are not necessarily suitable for CCC custom accessories.
Card frame size
We have developed multi-version slabs that allows a custom fit for any card size. No need to insert a sleeve: additional plastic layer.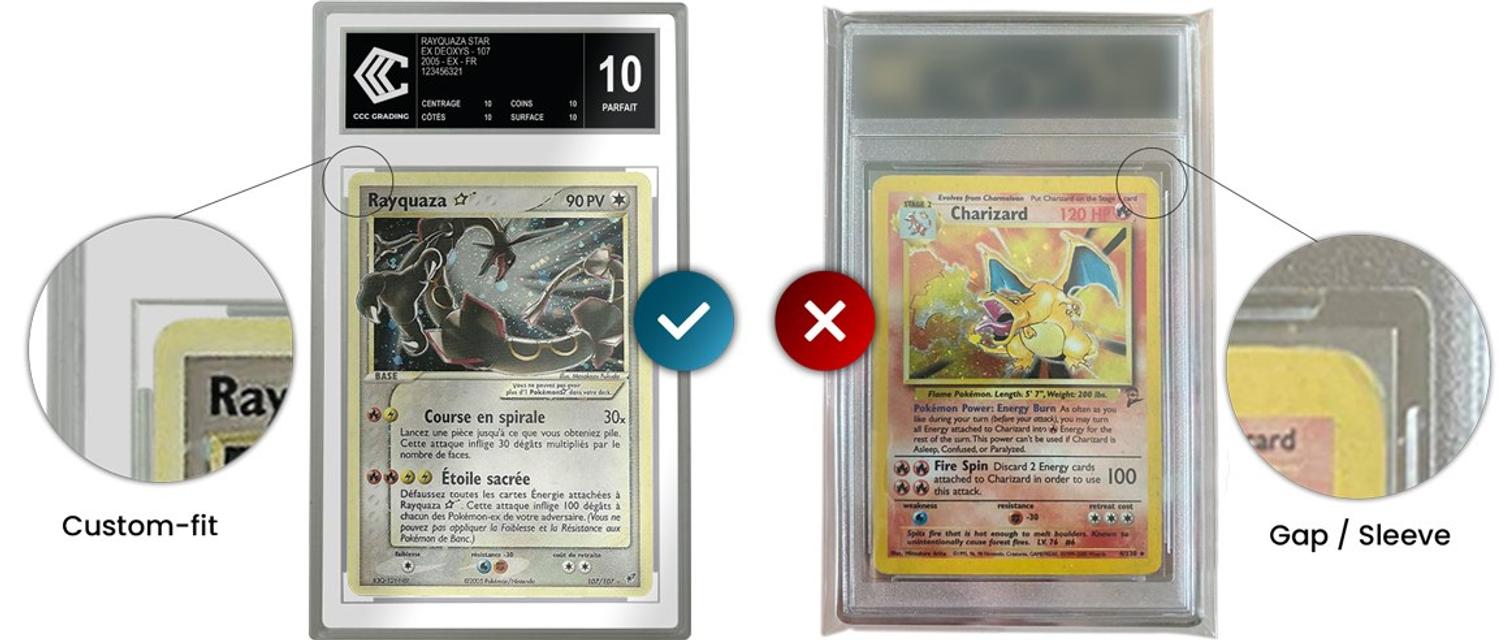 Comparison: CCC slab (left) and a classic slab (right)
Custom-size CCC slab

Perfectly maintained card
In order to keep your card in its condition forever, it is perfectly held between the bars of the slabs, without any spacing.
No sleeve inside
Whether it is for the Standard format (Pokémon, MTG, FOW) or Jap (Yu-Gi-Oh / Vanguard), we never put sleeves inside the holder.
The first perfect-fit slabs for Yu-Gi-Oh!
You can now grade your Yu-Gi-Oh cards in a quality case perfectly designed for the size of these cards.
In comparison : Slab with gaps

Moving card
If no sleeve is put in this type of holder, the card may shift and get damaged due to the gaps between the frame bars.
Sleeves inside
Often, the card is under a sleeve to fill the gaps. The card loses its shine and beauty with this second layer of plastic.
Limited format
This type of case is often purchased from a wholesaler who has developed the case for sports cards. It will therefore not be suitable for all TCG cards.
Security
The uniqueness of a slab is essential to the security of authentication. Commercially available holders have major security flaws.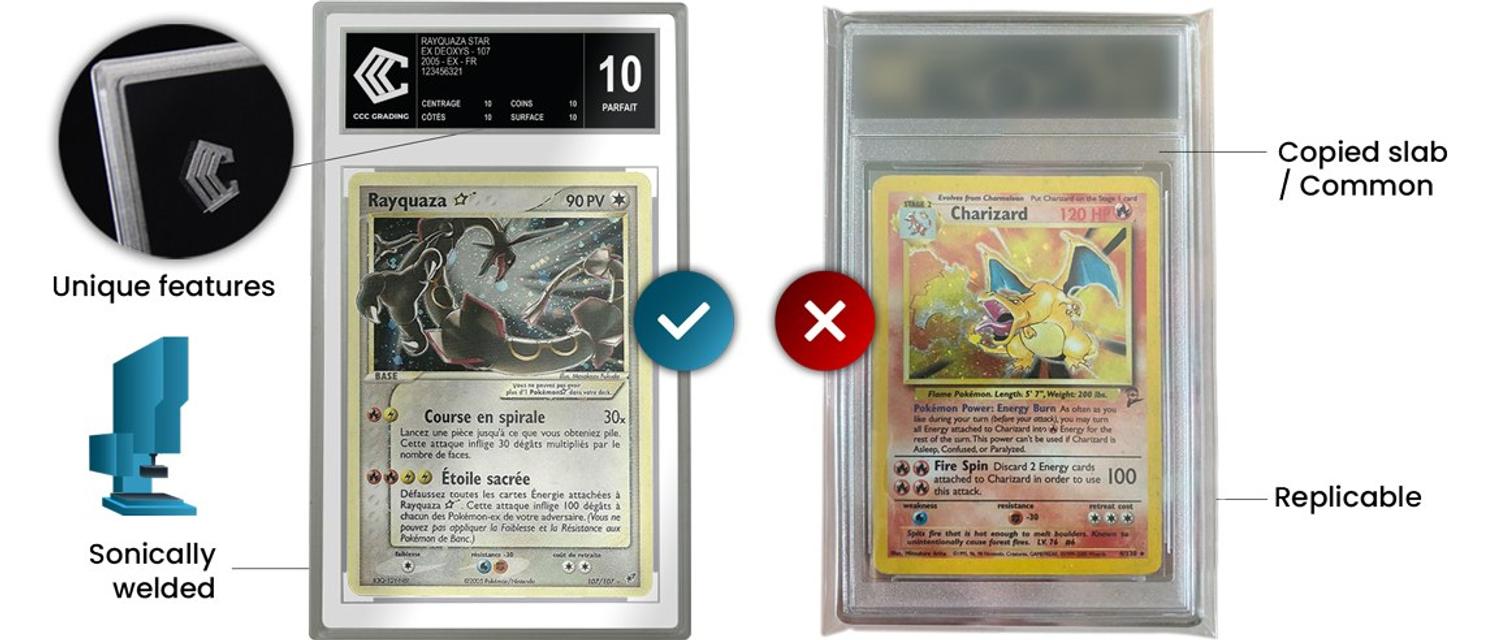 Comparison: CCC slab (left) and a classic slab (right)
CCC secured slab

Ultrasonic welding
Our slabs are ultrasonically welded using an industrial machine manufactured in Switzerland.
Impossible to open without breaking it
Due to our technical welding specifications, the case is now a single block. It is impossible to open it without breaking it and leaving marks immediately.
Unique and non-reproducible
The custom finishes and format make our case unique. It was developed in-house by CCC and the plans are protected.
In comparison : Not secured slab

Commercialy available and easy to counterfeit
Slabs purchased in high quantities from known B2B resale websites cause major security concerns for those grading companies.
Anti-dust treatment
Ionization is a complex industrial process that removes static electricity from materials. It allows us to have slabs without any dust.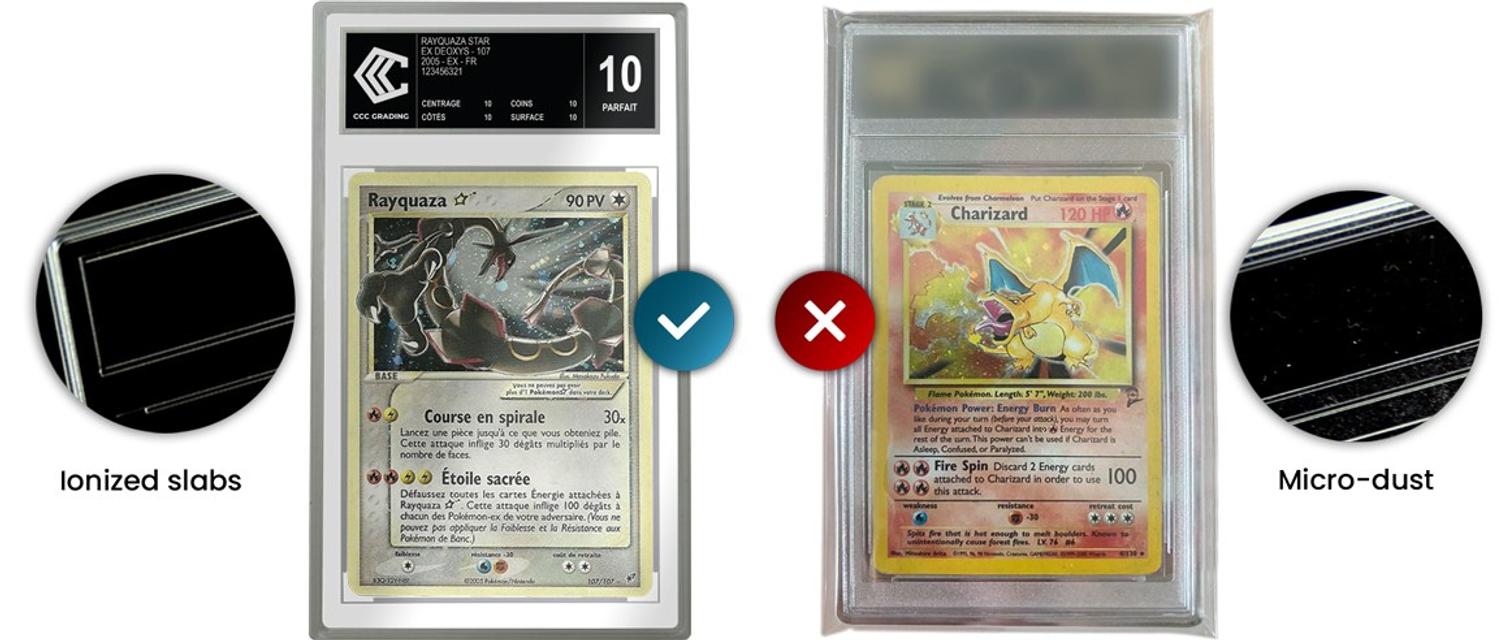 Comparison: CCC slab (left) and a classic slab (right)
Ionized CCC Slab

Ionization treatment
All our cases are ionized before welding to avoid dust incrustation inside. To learn more about this process, discover our process.
In comparison : Slab without a treatment

Sensitive to internal flaws
Non-ionized holders are susceptible to capture many micro particles or dust. The appearance is sometimes grained to hide these flaws.
Dimensions
The dimensions have been designed for the best possible visual effect and universal adaptation to graded card accessories (pockets, cases, binder pages, frames).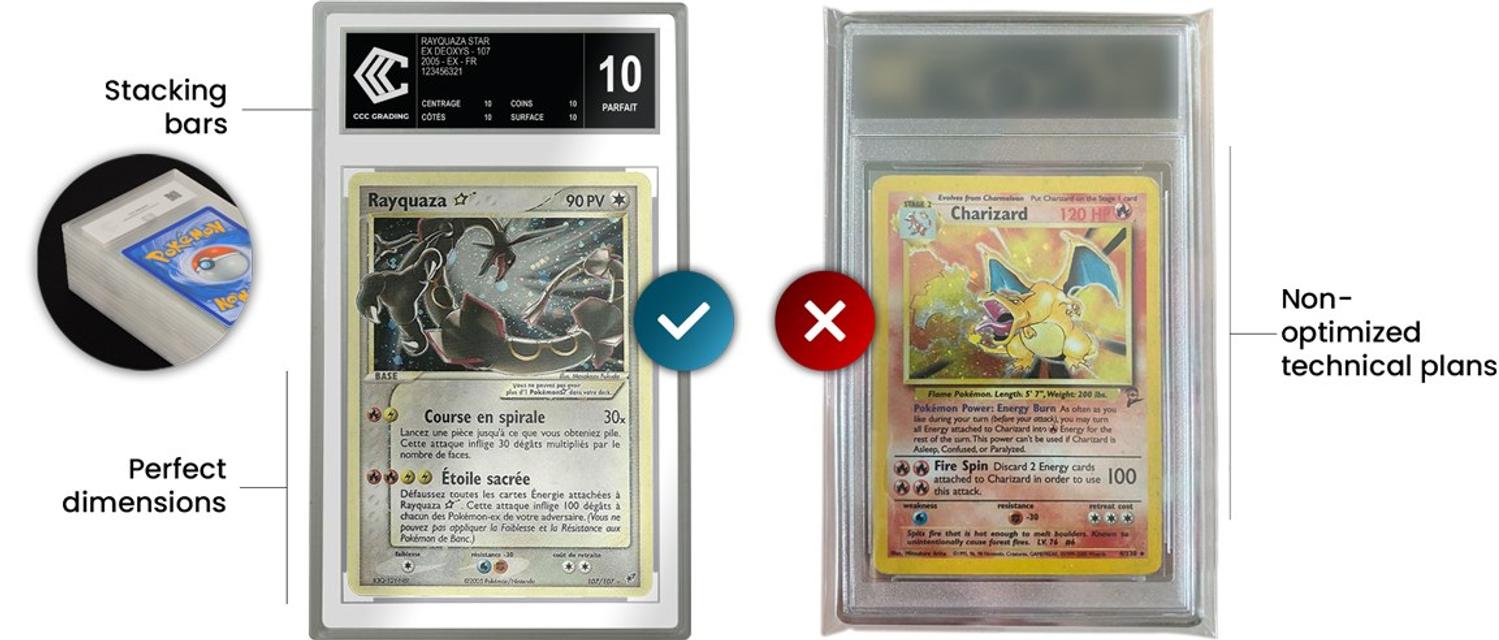 Comparison: CCC slab (left) and a classic slab (right)
CCC Slab thought for storage

Perfectly fitted to accessories
Our slab is designed to be perfectly adaptable to our custom accessories. One CCC storage case can hold up to 84 graded cards!
Stackable
The storage of your cases is optimized thanks to the stacking bars placed on each CCC slab.
In comparison : a non-optimized slab

Too small or too thick
Some cases will not necessarily fit the various graded card accessories.
CCC Grading's vision
The purpose of this comparison is to promote our slabs while informing the collectors with maximum transparency.
Indeed, it is nowadays very easy for a new company to buy "ready to use" slabs. This practice discredits our card authenticating profession and tarnishes the reputation of card grading in general.
As part of our global quality and security improvement approach, we encourage and respect the efforts made by the French grading industry to bring high quality and secure slabs to collectors.